News…. 
We are proud that Angela's Attic is now one of Irelands leading suppliers of FRENCHIC Furniture Paint Products with over 6 years experience as a stockist.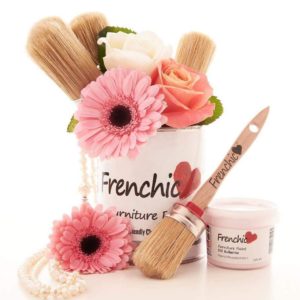 Welcome to Angela's Attic Wicklow Town
At Angela's Attic, we have always been the "wombling" types, never as happy as when we are rummaging through other people's "junk". We like to re-imagine, re-invent, and breathe new life into tired and weary pre-loved objects, especially those of yesteryear.
We are up-cyclers and retailers of the finished items. We are also retailers of affordable vintage items, with a special love for China ware, as well as some quirky objects. 
Angela's Attic is a dream come true for us. We can now play house all day long, and throw our door open to everyone to join in. We source "one off" curios, and fanciful items, which we hope will provoke many a conversation. We sell all types of beautiful and intriguing items and interesting objects. We do not limit our search to only antiques or just vintage . We chose things because we like them, or because of their potential.
Our workshop is right in the the corner of Angela's Attic shop, so you can spot us as we work away on some of our projects which are usually in various stages of up-cycle. We are always pleased to pass on any advice that we have picked up along the way. We are an official stockist of Frenchic Chalk Paint, so you can take part in the fun at home too. Beware, it can be addictive!
Drop in to Angela's Attic and you will not be disappointed.  We have new stock arriving frequently. Hopefully you will find a treasure and enjoy it as much as we do.